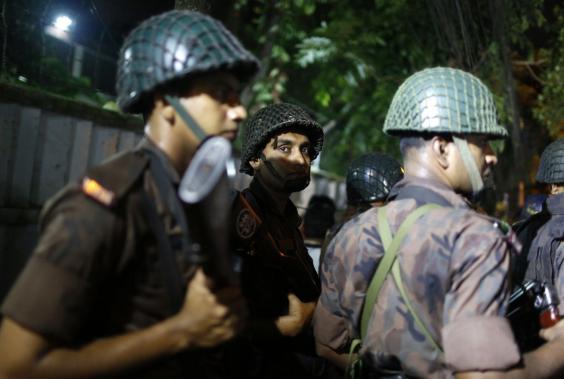 Six ISIS militants have been killed after massacring at least 22 people in a shooting attack on a restaurant in Bangladesh.
Police said at least 13 hostages had been freed from the Holey Artisan Bakery in Dhaka, where one suspected gunman was captured in a military operation.
An Isis-affiliated propaganda agency released photos from inside the restaurant during the raid, appearing to showing the bodies of women and men on the floor in pools of blood.
The group released a statement saying "Islamic State commandos" attacked the restaurant, describing it as "frequented by foreigners".
Bangladeshi police would not confirm the terrorists' claim to have killed 24 victims and wounded 40, saying that two police officers had died, but a military official later said 20 hostages were also dead.
Witnesses described up to nine militants shouting "Allahu Akbar", meaning "God is great" as they burst into the Holey Artisan Bakery at 9.20pm local time on Friday (4.20pm BST).